Milan - Don Carlo San Martino
Don Carlo San Martino Residence Hall is located in Largo Sereni 1, within easy reach of the city centre; the Città Studi area where the Politecnico Leonardo and the Mathematics, Science and Medicine deparments are based; and Forlanini (Linate) Airport.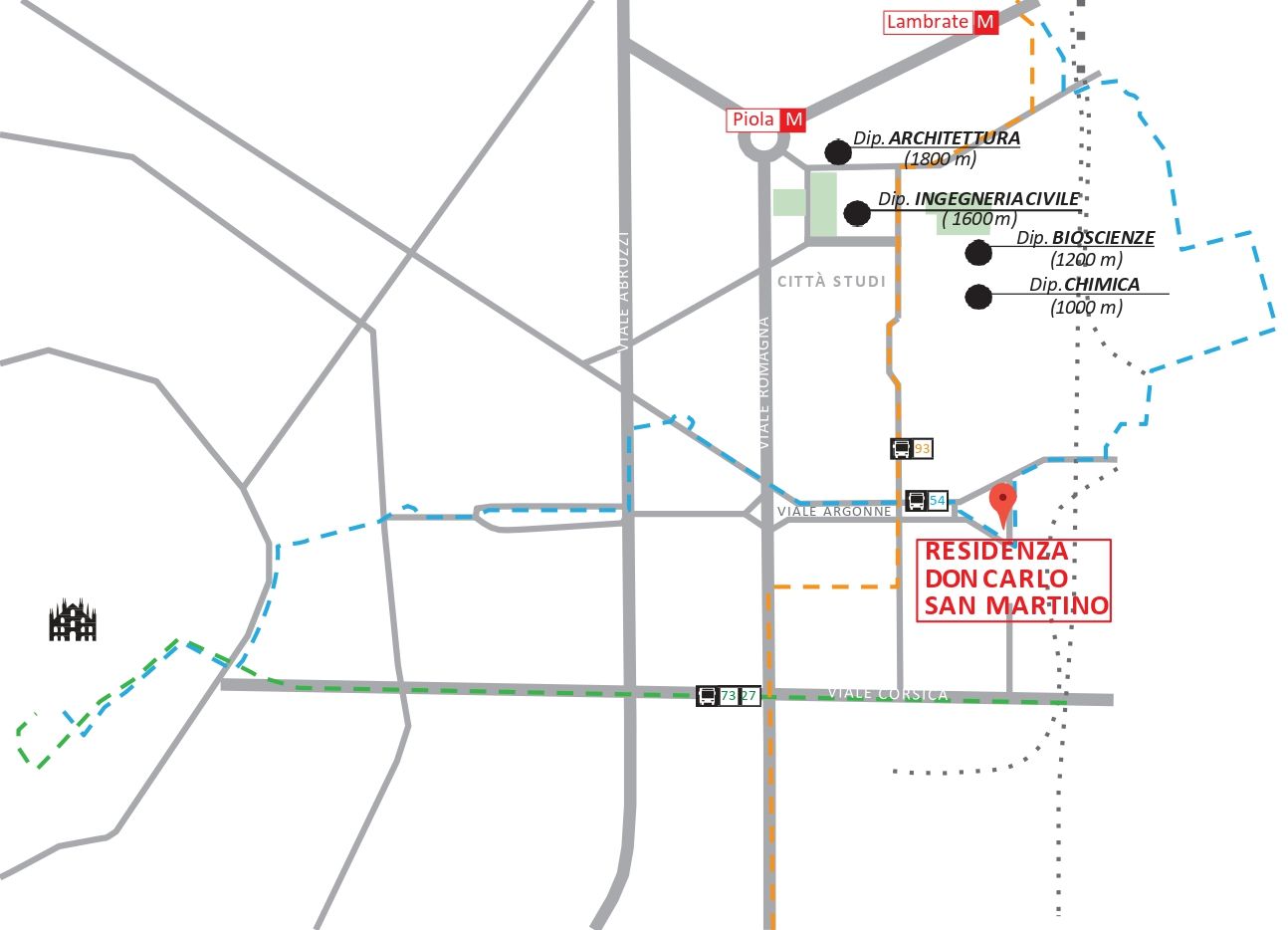 The residence hall was completely renovated between 2018 and 2019 and is comprised of 20 ground-floor apartments, both furnished rooms and studios, for a total of 21 places. They are all provided with personal bathroom, air conditioning and Wifi, kitchen equipment (crockery, cutlery and pots and pans), a cleaning and disinfecting service, and bed linen on request.
Residents can also make use of:
- A furnished and equipped kitchen (with refrigerator, oven, induction hob, microwave);
- Gym (with treadmills and stationary bikes)
- Laundry area complete with coin-operated washer and dryer;
- Large internal garden;
- Bike storage.
Public Transport
Metro MM4 Blue line Argonne and Forlanini stops
BUS 54, N54 stop Largo Sereni 1
BUS 45 stop Via Mezzofanti Via Sismondi
BUS 175 stop Via Mezzofanti Via Sismondi
BUS 38 V.le Argonne Via Marescalchi
BUS 93 Lomellina
BUS 73, 54
TRAM 27 V.le Corsica Via Lomellina
LINEA MM2 (green line) Lambrate F.S.
RAIL BYPASS (PASSANTE FERROVIARIA) stop Forlanini
There are also local businesses in the area, such as supermarkets, coffee shops, restaurants, pharmacies and bakeries.
Click HERE to find the housing solutions available